CONGRATS!

YOU ARE

for clicking on this survey!


The official How Gay RU survey is brought to you by
TFG.world, promoting TFG's new EP release
G.O.P. (Gag on Penis) ! Includes the hits
Orange Anus & The Ballad of George Takei
TFG G.O.P. (Gag On Penis)
CD/Poster Art: Mike Diana

track listing - click to play
TFG is a pro-LGBT/anti-GOP band, mixing electronic music, full frontal guitar
rock & grindcore, featuring funny, graphic lyrics celebrating man-on-man love.

The G.O.P. cd cover & wraparound poster package is by MIKE DIANA,
the legendary outlaw comic artist. In 1994, Mike was charged with 3 counts
of obscenity by a Florida court for his zines Boiled Angel #7 and #Ate.
He was found guilty, sent to jail and sentenced to three years probation, the
first person to receive a criminal conviction in the US for artistic obscenity.

$20 postpaid in US

Shortly after G.O.P.'s 11.08.17 release (one year of Trump),
the record was dropped, along with 18 other TFG-related releases,
from all digital distro outlets: iTunes, Google, Amazon etc, for
violating the distributor's standards (hate speech, pornography).
Mike Diana's CD/Poster cover artwork for TFG G.O.P. was
refused printing by two CD manufacturers prior to it's release.
Between the majority of the American public supporting LGBT equality, and the
current administration opposing cultural progress, the music and message of TFG:
Kneepad Nikki, Doc Octocock and Joe Testículo, has never been more relevant.
TFG MUSIC VIDEOS


The Ballad of George Takei is a love letter from TFG to sexy Sulu.


Orange Anus the first video/single is a psychedelic melange
of republicans, politics, peni and hashtags.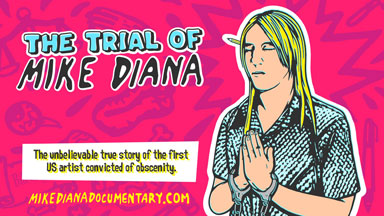 The censorship of Mike Diana & TFG coincides with screenings
of BOILED ANGELS: The Trial of Mike Diana documentary
by cult director Frank Henenlotter (Basketcase, Frankenhooker)
Mike Diana is reprinting all 8 of his zines personally via the
BOILED ANGEL LIVES Box Set over at MikeDianaComix.com
MIKE DIANA Solo Exhibition @ Superchief Gallery NY
opening April 27th thru May 9th
Wed, May 2nd Superchief Screening Night includes Mike Diana's
animated TFG G.O.P. music video & other Mike Diana-related shorts.

Enter the sonic gloryhole of TFG and visual psychotic splendor of Mike Diana.
If you're against Trump, the conservative agenda, extreme religion in politics,
or just a pervert who likes to laugh and rock out, enter TFG.world.
TFG PRESSKIT: low and hi-res photos

Enter TFG.world
MikeDianaComix.com
TEST PRESS DOT NET
HOW GAY RU?
sponsored by