ENTER THE SONIC GLORYHOLE OF TFG
TFG "G.O.P. (Gag On Penis)"
Release Date Nov 8th 2017 (1-year Trump)
#Trump #GOP #GeorgeTakei #Gay


CD/Poster Art: Mike Diana

"The Ballad of George Takei" is a love letter from TFG to Sexy Sulu.


"Orange Anus" the first video/single, is a funny, psychedelic melange
of republicans, politics, peni and hashtags.

Between the majority of the American public supporting LGBT equality, and the
current administration opposing cultural progress, the music and message of TFG:
Kneepad Nikki, Doc Octocock and Joe Testículo, has never been more relevant.
Kneepad: "Orange Anus is a phrase I stole from Rosie O'Donnell, to express my
disgust for the Conservatard-in-Chief, a reality show star with no political experience
who got elected President. Trump knows how to manipulate the media. Nothing more.
And if you're not a rich, white male, his policies will hurt you. "



The "G.O.P" cd cover & wraparound poster package is by MIKE DIANA,
the legendary outlaw comix artist. In 1994, Mike was charged with 3 counts
of obscenity by a Florida court for his zines Boiled Angel #7 and #Ate.
He was found guilty, sent to jail and sentenced to three years probation, the
first person to receive a criminal conviction in the US for artistic obscenity.
Mike Diana's artwork for TFG G.O.P was turned down by two
CD manufacturers prior to printing, furthering Mike's censored legacy.
The Trial of Mike Diana documentary by cult filmmaker
Frank Henenlotter (Basketcase, Frankenhooker)
will be out early 2018.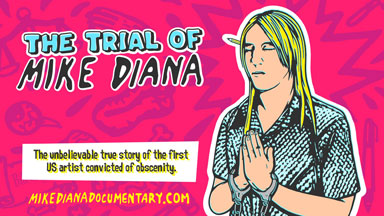 Enter the sonic gloryhole of TFG and the visual psychotic splendor of Mike Diana.
The mix of indie electro rock, full frontal guitar and grindcore is dirty comedy at it's dirtiest.
If you're against Trump, the conservative agenda, extreme religion in politics, or
just a pervert who likes to laugh and rock out, choose TFG. Enter TFG.world.
For TFG and Mike Diana promos or interviews,
Contact: Johnny Chiba - 917.250.7192
johnnychiba88@gmail.com
TEST PRESS DOT NET
MikeDianaComix.com
TFG.world